BioGuard Oxidizers – Shock to Remove Contaminants
Destroying Organic Contaminants* From the Environment and Bathers is Important
Shocking your pool water is a needed step for proper pool maintenance. Shocks or oxidizers chemically destroy organic contaminants, remove combined chlorine and help restore water clarity. This is the second step of the BioGuard 3-Step Pool Care System
*such as perspiration, suntan lotions, hair sprays, body oils, urine, pet dander, and cosmetics.
Isn't Shocking Just for when your Water has a Problem?
No! Shocking should be part of your pool maintenance. While it does help with troubleshooting, when part of a routine it removes contaminants that cause cloudy water and helps keep the water crystal clear and sparkling.
Bioguard's Best Multi-Purpose Shocks for Weekly Application
Smart Shock®
BioGuard's best to kill bacteria, oxidize, buffer and clarify your water
Contains blue algae killing crystals
Treat and swim in as soon as 15 minutes
Can be used with the 3-Step or Once-A-Week 3 Step BioGuard Care System
Easy Shock and Swim®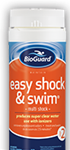 Multi-purpose shock oxidizes, clarifies and buffers
Restores water sparkle
For all pool types, works especially well with above-ground models and pools equipped with ionizers
Can be used with the 3-Step or Once-A-Week 3 Step BioGuard Care System
Our Strongest Shocks for Problem Solving and Routine Use
Burnout® 3
Calcium Hypochlorite
Fast-dissolving, granular chlorine shock
Suitable for vinyl and plaster pools
Maintains brilliantly clear water
Can be used with the 3-Step or Once-A-Week 3 Step BioGuard Care System
Burnout® 73
Calcium Hypochlorite
Superchlorinator for swimming pools
Suitable for use in all pool types
Restores sparkle and clarity to pool water
Can be used with the 3-Step or Once-A-Week 3 Step BioGuard Care System
Fast-Acting, Chlorine-Free Alternative Shock Treatment
Oxysheen®
Fast-acting, non-chlorine shock oxidizer that destroys contaminants
Clears cloudy water
Treat and swim in as soon as 15 minutes
Can be used with the 3-Step or Once-A-Week 3 Step BioGuard Care System