BioGuard Cleaning and Problem Solvers
Protect and Maintain Your Pool
From filter, tile and surface cleaners to pool cover cleaner and preservative – keep your pool environment new and inviting! Having a regular cleaning schedule will help to keep you on track and increase the lifetime of your pool and pool equipment.
Does Cleaning My Filter Really Make That Much of a Difference?
Yes! Having a clean filter makes a significant impact on the quality of your pool's water. A clean filter allows for proper filtration which is essential to achieving and maintaining safe, crystal clear water.
Clean Filter to Ensure Optimal Water Quality
Kleen It®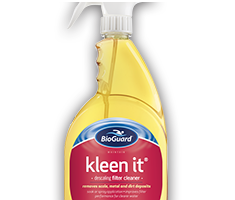 Removes metal, dirt and scale from filter
Cleans sand, DE and cartridge filters
Spray or soak application
Strip-Kwik®
Removes grease and oil from filter by acting as a shampoo
Reduces maintenance costs
Works on all filter types
To Clean Pool Surfaces
Off The Wall®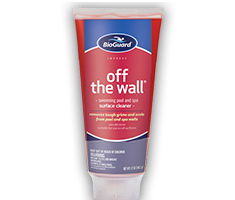 Penetrates and removes tough grime, scale and deposits from pool and spa surfaces
Non-abrasive, super-thick gel formula
Enhanced stain removal capabilities
Suitable for use on all pool and spa surfaces
Erase® Iron Stain Remover
Highly effective iron stain remover
Compatible with all pool types
Remove Unsightly Foam
Anti-Foam
Easy-to-use, fast-acting formula
Doesn't affect pH
Swimming can resume quickly after application
Works well with all sanitizer types and all pool surfaces
Protects Pool Covers during Storage
Stow-Away®
Cleaner and deodorizer that allows for storage of wet pool covers
Extends the life of most swimming pool covers
Prevents covers from sticking together when folded
May be used to clean and store other poolside items
Remove Excess Chemicals
Chem-Out®
Eliminates excessive chlorine, bromine or hydrogen peroxide residual
Dissolves instantly
Reduces pool downtime
Can be used to convert pools to the SoftSwim® (chlorine-free) system