Above Ground Pool Cleaners
Hayward AquaBug Product Description
For above-ground pools, AquaBug® turbine cleaner features the exclusive SmartDrive© programmed steering to clean faster and more thoroughly than random cleaners.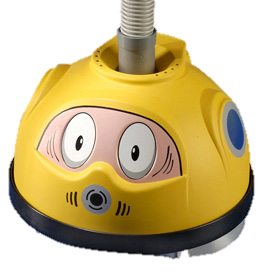 Reduced carton size (52in length down to 39in)
Attractive 4-color unitized cartons create a professional presentation that will stimulate sales
Patented SmartDrive programmed steering system ensures the entire bottom of the pool is cleaned quickly and completely
Installs in less than 10 minutes, without tools
Unique turbine/gearing system provides constant balanced water flow assuring quiet operation and gentle movement across the pool bottom
Improves water circulation by pulling water from the pool bottom as it moves
Advanced, contoured head design allows the steering pattern to be completed in minimal time
Deluxe bumper ring minimizes friction for easy movement away from walls and resumption of the programmed steering pattern
Slotted santropene shoes for quick turns
1 year warranty
Doughboy Above Ground Pool Cleaner
Doughboy's Ultra Vac flow and performance has been engineered for ease of use and cleaning effectiveness.
It is aggressive in its mission to seek out and vacuum up debris on the pool bottom and sidewall.
Durable footpad provides traction for efficient pool movement.
10 each, 3′ white vacuum hoses permits superior pool coverage.
Five hose weights allow the Ultra Vac to easily access deep swimming areas.
Buoyancy ring keeps the Ultra Vac at proper angle for precise vacuuming.
Custom rub-bar provides additional balance for the pool vacuum in deep water. Reduces the chance of vacuum getting tangled or blocked on most pool ladders or stairs.
Automatic flow control valve offers flow control to match pump flow rate, ensuring superior cleaning.
Universal skimmer fitting allows the Ultra Vac to adapt to most skimmer configurations.
Custom swivel with Delrin Washer effectively reduces friction to keep the Ultra Vac from tipping over.
Twin drive tubes provides kinetic energy for total mobility.
Bumper strap helps turn the Ultra Vac for random pattern cleaning coverage.
Vacuum seal made from pleated polyurethane for maximum flexibility.
Easy installation. The Ultra Vac can be installed in minutes without tools.